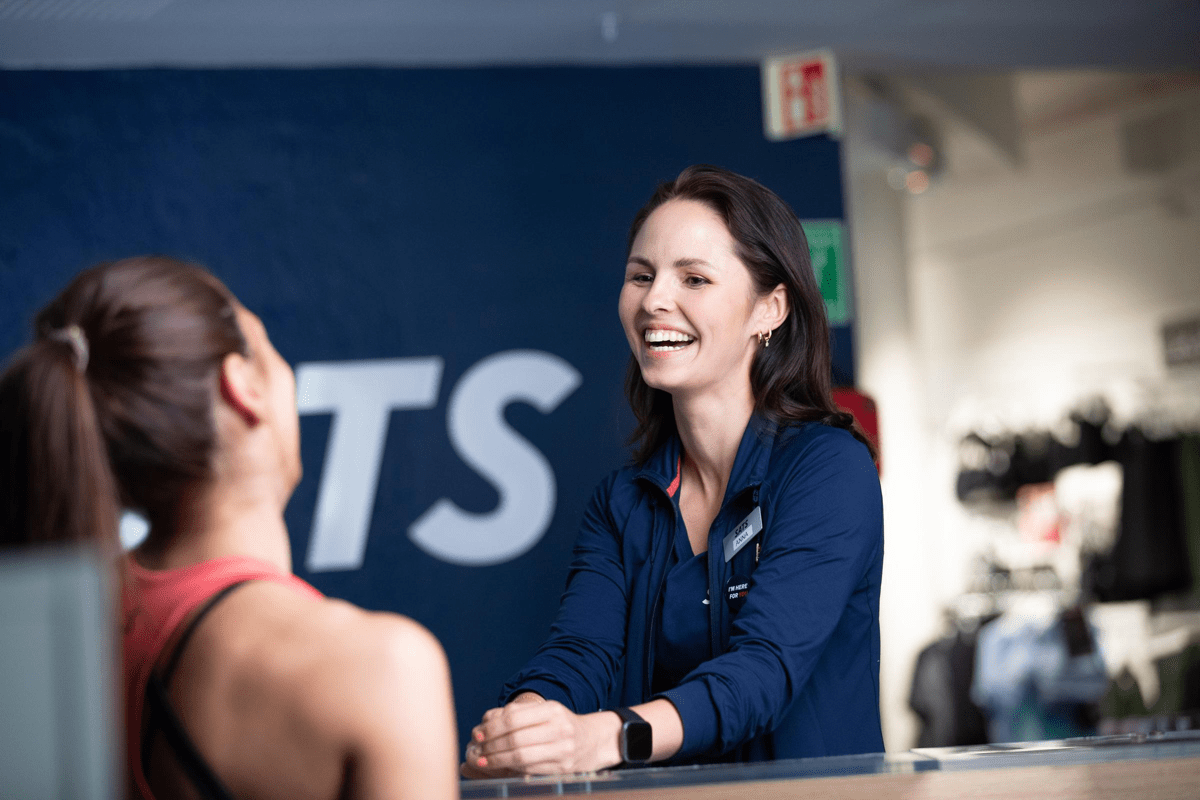 Work at our Service Office
SATS has service offices located in Norway, Finland, Denmark and Sweden with a wide range of departments: Member Care, HR, Marketing, Digital, Product, Retail, Development, and Finance.
Everyday our service office employees goes to work with a mission to support our clubs, so that they can deliver the best member experience in the industry and helping more people healty and happy.
Read more about our deparments at Service Office
When our members and colleagues contact the member care department, we aim for making an inspiring footprint by walking the extra mile. Our mission is to take care of you, deliver unmatched member experiences by; listening and solving. Being part of a healthy and happy culture helps us with a positive mind and focus on the right thing first! Our member care agents are leading the way in building a trustworthy relationship with our members and that is our working culture. Being part of a team that drives changes, improvements, and smart initiatives is fun and create good vibes. We look forward, to helping each other to reach our goal to make people healthier and happier!

In SATS we strongly believe that our people are the most important assets that we have. We will never succeed with our strategic initiatives and with offering a great member experience if our SATS People do not have what they need to feel motivated and engaged. We have a clear employee journey that we work continuously with within HR to strengthen and develop. From recruiting and onboarding to developing and supporting leaders and employees. Our ambition is to provide and enable an extraordinary employee experience, with a strong SATS culture built on our values, that will make us the nr 1 employer in the fitness industry. We have local HR departments in all countries that support the operations, and they consist of various roles We also have a Nordic HR department that puts more focus on developing our HR work from a strategic perspective.

The Marketing and Communication department's main goal is to support SATS's overall KPIs and commercial priorities both at Nordic and local level. We are working to maintain and strengthen our position in the Nordic people's hearts & minds as a provider of training that really inspires members to succeed. Nothing beats the feeling of taking care of yourself, being a part of a strong community and doing something you enjoy. Our goal has always been to build a successful marketing department with the best marketing and communication people in the world; create a clear, distinct tone of voice and develop a strong and unique concept with sweaty, happy fitness models that differs from the "typical" sports and fitness industry approach.

We have been successful on our journey, and our work also won the Norwegian annual marketing accolade 'Årets Markedsfører' in 2019. The SATS Marketing and Communication department is semi-centralized, with a Nordic team serving all markets in central roles (Website, CRM, Content Creation, SoMe), supported by local marketing managers and marketing coordinators.

Our digital department are continuously working with developing our member's digital experience to support our members on their journey to become healthy and happy. We want to make it as easy and informative as possible for our members finding what group training class to book next or what Personal Trainer package to choose in the SATS app. In addition, SATS want to inspire our members through the app to create good training habits by following friends or family and join them for the next workout. We also invite members to participate in a variety of fun challenges where they receive rewards, which we know our members love!

The digital department is also provides our staff at Clubs with support for the club operations to run smoothly and with high quality

SATS's vision is to make people "healthier and happier". To fulfill this vision, we strive to deliver the best possible training experience for our members. Every member should be able to find a training product suited for their needs and preferences, and to vary their training to keep their motivation at top level. We offer a wide range of training products, from individual training on the gym floor with equipment from top global suppliers, personal training from a PT, and instructor-led group training classes.

At SATS, we structure our innovation and product development work at Nordic level to make sure we stay at the forefront of the training industry and provide our members the best training experience. As a large chain, taking a structured and centrally driven approach is necessary for defining which products to offer at which clubs. Our product strategy and offering are defined at Nordic level by the Product department

At SATS, we want members who visit our clubs to get the best total experience. Giving our members everything they need for their training, whether it's a water bottle, towel, t-shirt or energy before or after training, retail products are an important part of our total offering. In our retail shop, our members can get all the basics they need to train at our clubs, as well as a wide range of healthy food and drink products. At SATS we also believe that the better you feel about yourself, the better you perform. We have therefore partnered up with leading high-quality suppliers of training clothes and gear, carefully selected to fit the members' needs. We take pride in picking out the newest and coolest garments every season so that members can find the right wear for their training. We also offer high-quality training tools such as yoga mats, rubber bands, pressure point balls and foam rollers.

The retail department at SATS is responsible for the overall retail strategy, category and assortment strategies, pricing and campaigns, and operational guidelines and execution in-club support

Things moves fast in the fitness industry. To be able to adapt and deliver the best training experience there is, SATS need to constantly develop in accordance to shift in the marked. The development department are responsible to analyse our running business, and what SATS should decide moving forward.


This department are involved and supports other deparments in many strategical and operational projects across our business to secure that SATS is going in the right direction and safeguards that we are cost efficient along the way.